Ruckus R650 Indoor Access Point
Indoor, Dual 5/2.4 Ghz, 802.11abgn/ac/ax; 4x4:4 + 2x2:2 Streams, OFDMA, MU-MIMO, PoH/uPoE/802.3at PoE sup.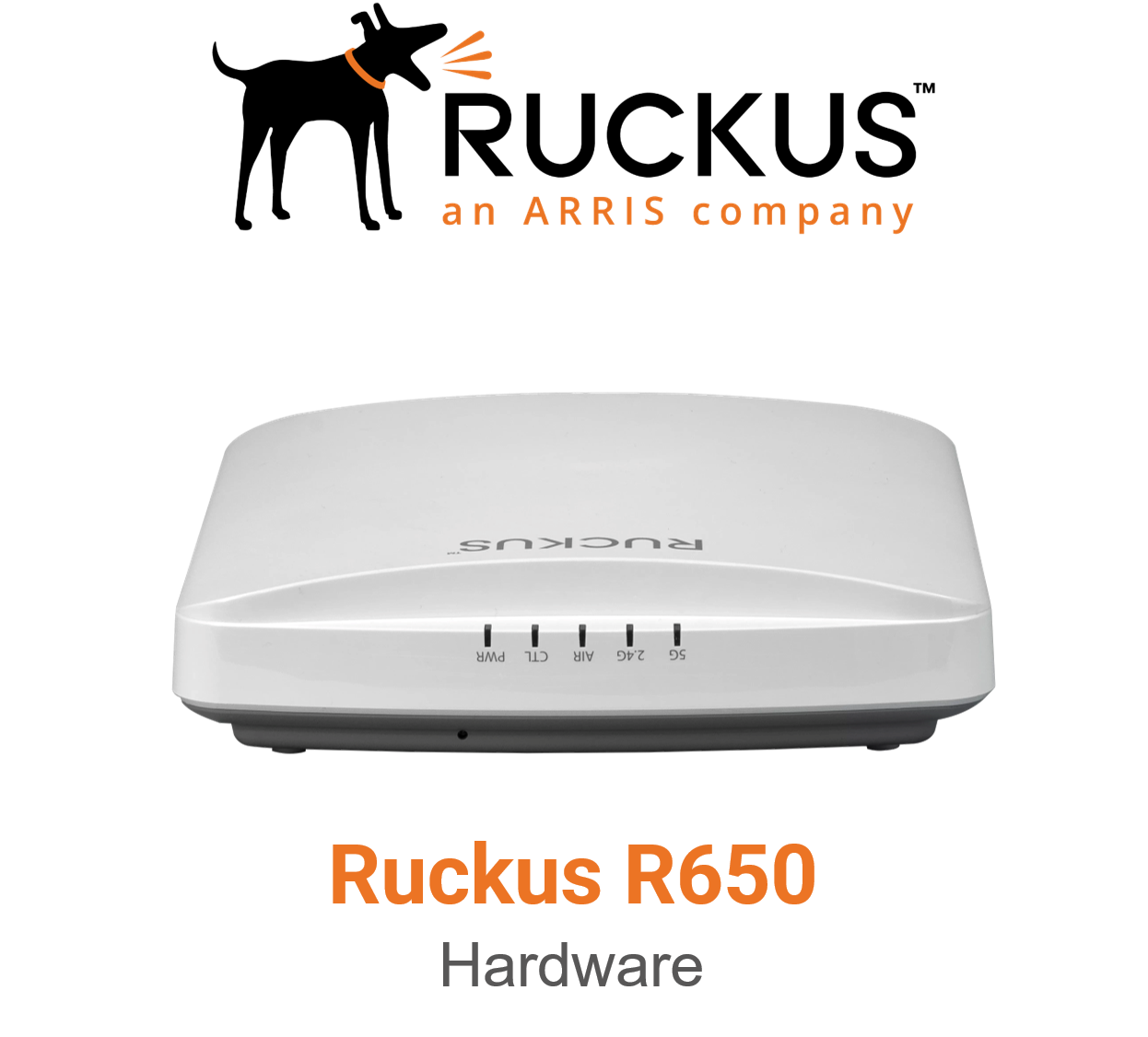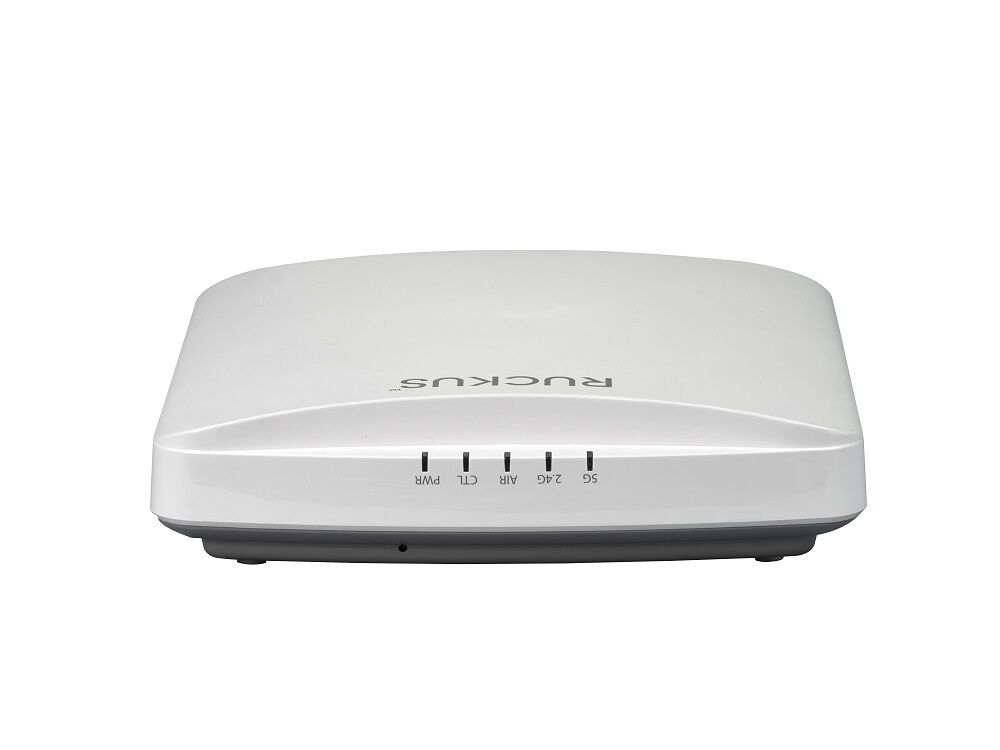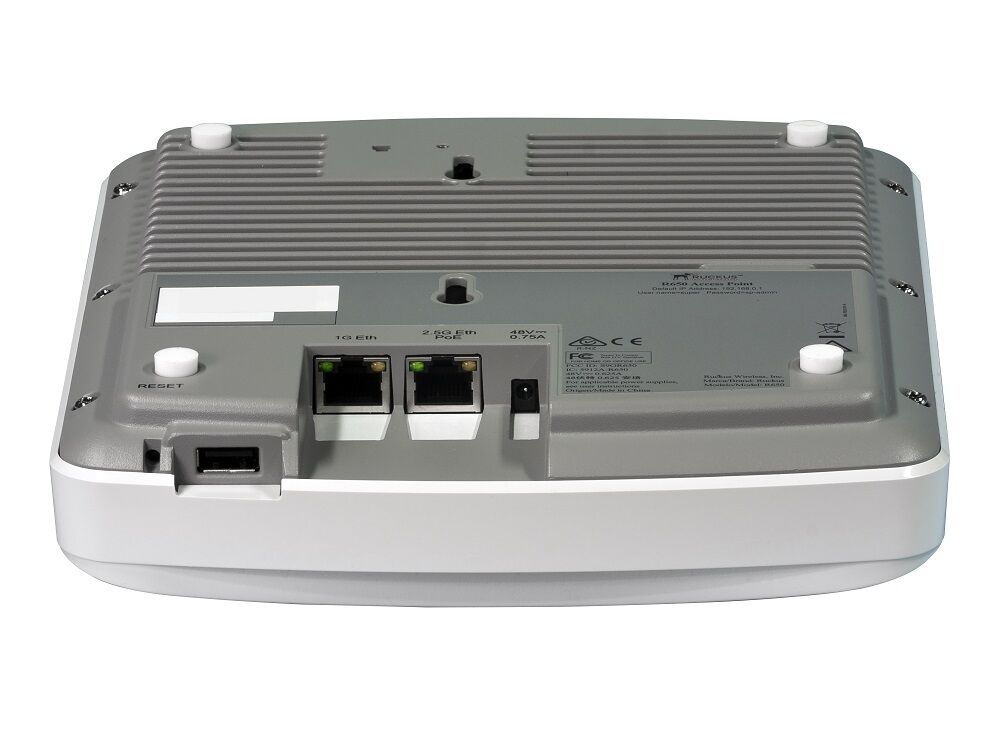 Product information "Ruckus R650 Indoor Access Point"
Please note that the manufacturer Ruckus is currently experiencing massive delivery problems and therefore the exact delivery date cannot be given. Further information on the availability of your desired components is available on request. Thank you for your understanding.

High traffic indoor environments, such as classrooms, retail shops and branch offices, can be some of the most demanding Wi-Fi environments.Dozens of users share the same crowded spectrum and all expect a fast, reliable connection to their content and applications.
The Ruckus R650 offers the ideal combination of performance, affordability and 802.11ax features for medium-density locations. It offers fast data rates (up to 2,400Mbps) and Ruckus density-handling intelligence to support dozens of users with guaranteed throughput, all at an affordable price.
The R650 is perfect for environments such as classrooms, university lecture halls, libraries, retail shops and branch offices. It can easily support online digital learning spaces with more than 30 students per classroom or university lecture halls that deliver simultaneous HD video streams to dozens of student devices.
The R650 802.11ax Wi-Fi AP incorporates patented technologies found only in the Ruckus Wi-Fi portfolio.
Extended coverage with patented BeamFlex+, which uses multi-directional antenna patterns.
Improved throughput with ChannelFly, which dynamically finds and uses less congested Wi-Fi channels.
With four streams of MultiUser MIMO (MU-MIMO) connectivity, the R650 can transmit to multiple client devices simultaneously, improving RF efficiency and overall throughput for all users - even those with non-Wave 2 clients. The R650 also features a USB port for hosting IOT devices and two Gigabit Ethernet ports that support link aggregation for increased throughput to the switch.
Whether you are deploying ten or ten thousand APs, the R650 is easy to manage through Ruckus' appliance, virtual and cloud management options.
Your benefits:
Superb WI-FI PERFORMANCE
With patented BeamFlex+™ adaptive antenna technology that uses 512 directional patterns, interference is reduced and coverage is extended.
CONNECT MORE DEVICES
Connect more devices simultaneously with four spatial MU-MIMO streams and simultaneous dual-band 2.4/5GHz radios, while improving the performance of non-Wave 2 devices.
AUTOMATISE THE OPTIMUM THROUGHPUT
ChannelFly's dynamic channel technology uses machine learning to automatically find the least congested channels. You always get the highest throughput the band can support.
MORE MANAGEMENT OPTIONS
Manage the R650 from the cloud, with on-site physical/virtual devices or without a controller.
Improve Mesh Networking
Reduce expensive cabling and complex mesh configurations by ticking a box with SmartMesh wireless mesh networking technology to dynamically create self-forming, self-healing mesh networks.
Advanced BACKHAUL
Couple two onboard Ethernet ports with link aggregation (LACP) to maximise throughput between AP and switch.
MORE THAN WI-FI
Support services beyond Wi-Fi with RuckusIoT Suite, Cloudpath security and onboarding software, SPoT Wi-Fi location engine and SCI network analytics.
Signal strength of the Ruckus R650 in different scenarios (ceiling mounted)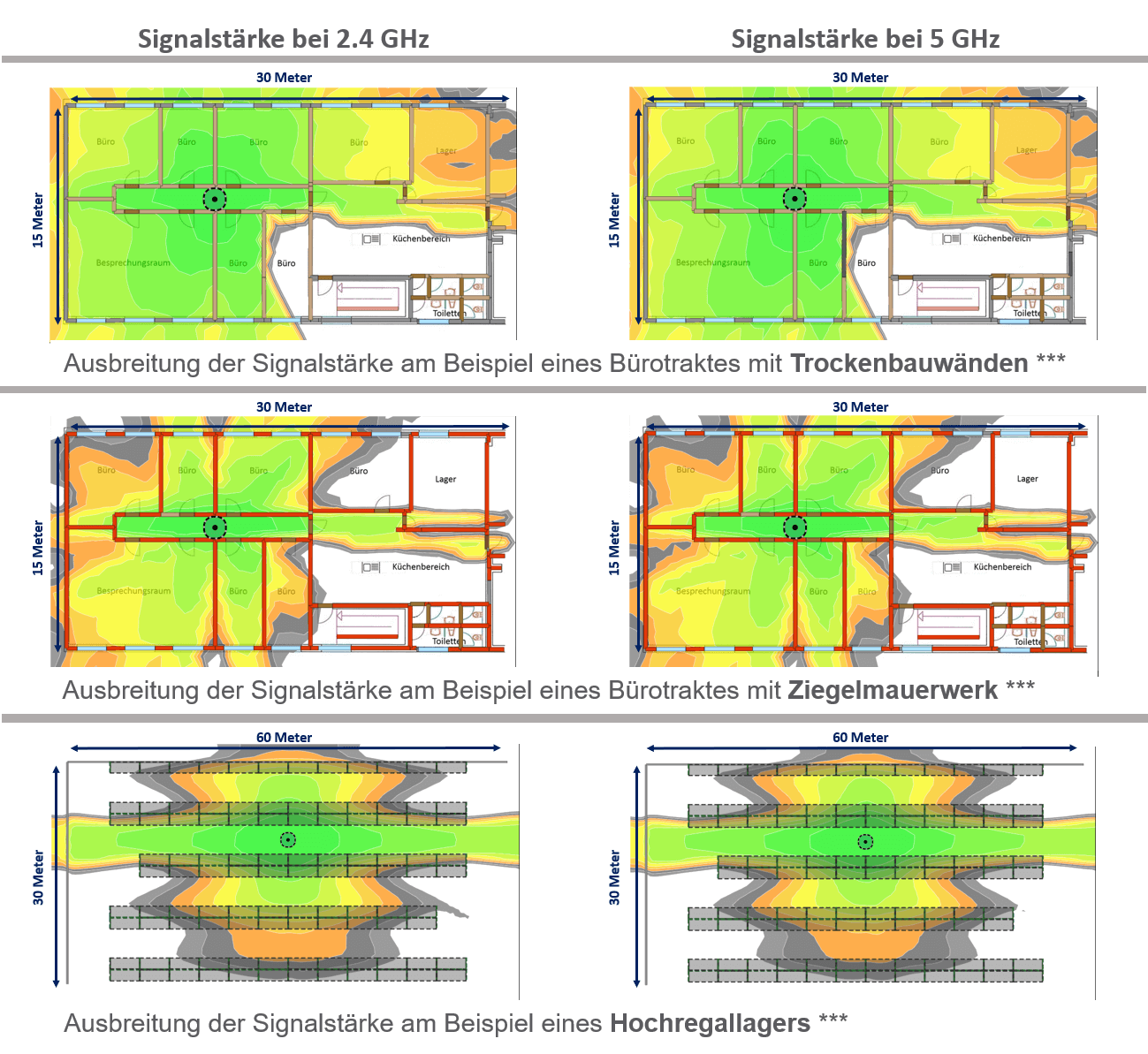 ***These graphs show the propagation of the signal strength within standardised attenuation values for walls and interference sources according to the respective material properties. Deviations in signal propagation are possible depending on the building material.
Product information
Antennas:

8 Internal + 1 BLE

Assembly:

Ceiling

, Wall

Environment:

Indoor

Frequency:

2,4 GHz & 5 GHz

Management options:

Ruckus Cloud

, SmartZone

, ZoneDirector

Maximum Throughput 2.4 GHz:

574 Mbps

Maximum Throughput 5 GHz:

2,4 Gbps

Radios:

2

802.11:

a

, b

, g

, n

, ac

, ax

MIMO:

4x4:4 MU MIMO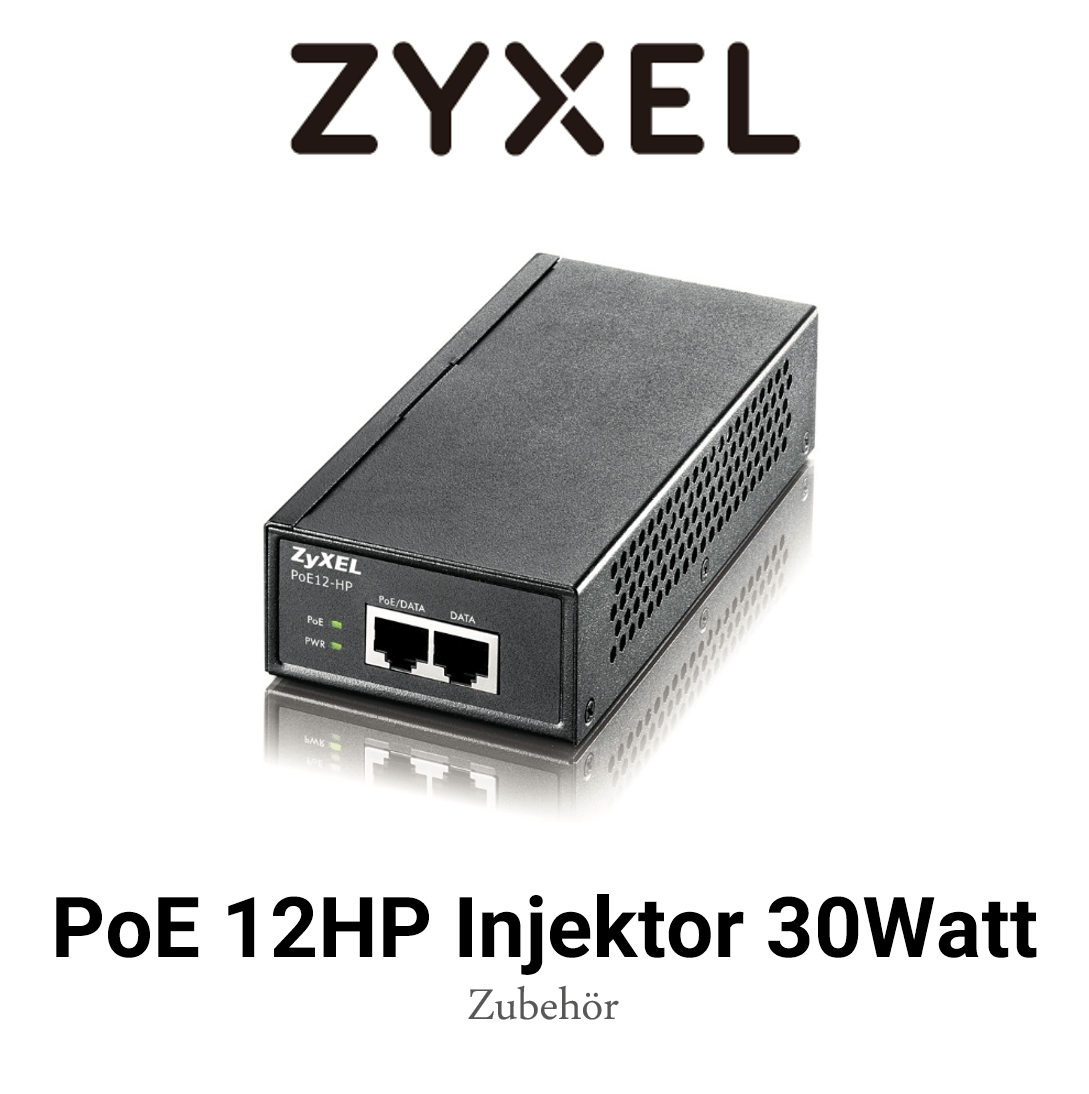 ZyXEL PoE 12HP - Power Injector - 30 Watt
The ZyXEL Power Injector with Gigabit LAN - RJ-45 interface and LED indicator is used to supply power to all PoE-capable devices that support PoE 802.3af or PoE+ 802.3at.
With this device, you can cost-effectively supply individual PoE-capable devices with both data and power using just one cable. Since the injector is Gigabit Ethernet capable, there are also no problems with speed.
Please note that there are currently delivery problems with all hardware products and the exact delivery date may not be accurate.

If the product is not marked as "available", you will receive more information about the availability of your desired components on request.


Questions to the product?
Your price
only €1,034.51*
%
€1,149.45*
(10% saved)
| | |
| --- | --- |
| MSRP: | €1,149.45 (10% saved) |
| Gross price: | €1,231.07 |
| Product number: | 901-R650-WW00 |
Available in 99 days, delivery time 1-3 days
Please select your desired variant by clicking on the button below to display the respective product information.
Directly order accessories
Questions to the product?
From the 1st order - purchase on invoice

Thanks to SSL Encryption

+49 228 - 338889-0

Both our consultants and our technicians are certified by the manufacturer.

Our company is certified according to ISO 9001. This guarantees, among other things, a smooth process.

Our company is certified according to ISO 27001. Among other things, this guarantees secure handling of your data.

Read our reviews.
Zuletzt angesehene Produkte