FortiAnalyzer - Security through transparency
Even with high security standards, it can never be categorically ruled out that malware will overcome existing security measures and disrupt workflows, steal data and enable illegal access from outside. The constant arms race between cyber criminals and security technology always provides scope for corresponding incidents.
In this case, it is no less important to have detailed and precise analysis and tracking tools at hand that can reconstruct how malware has penetrated and what it has done. This is where FortiAnalyzer comes into play, and also as a preventive measure. It provides accurate logging and analysis of everything that happens on your Fortinet network and detects vulnerable spots and patterns as well as irregularities. As a preventive measure, we also recommend an
IT vulnerability analysis
, which reveals security gaps in advance.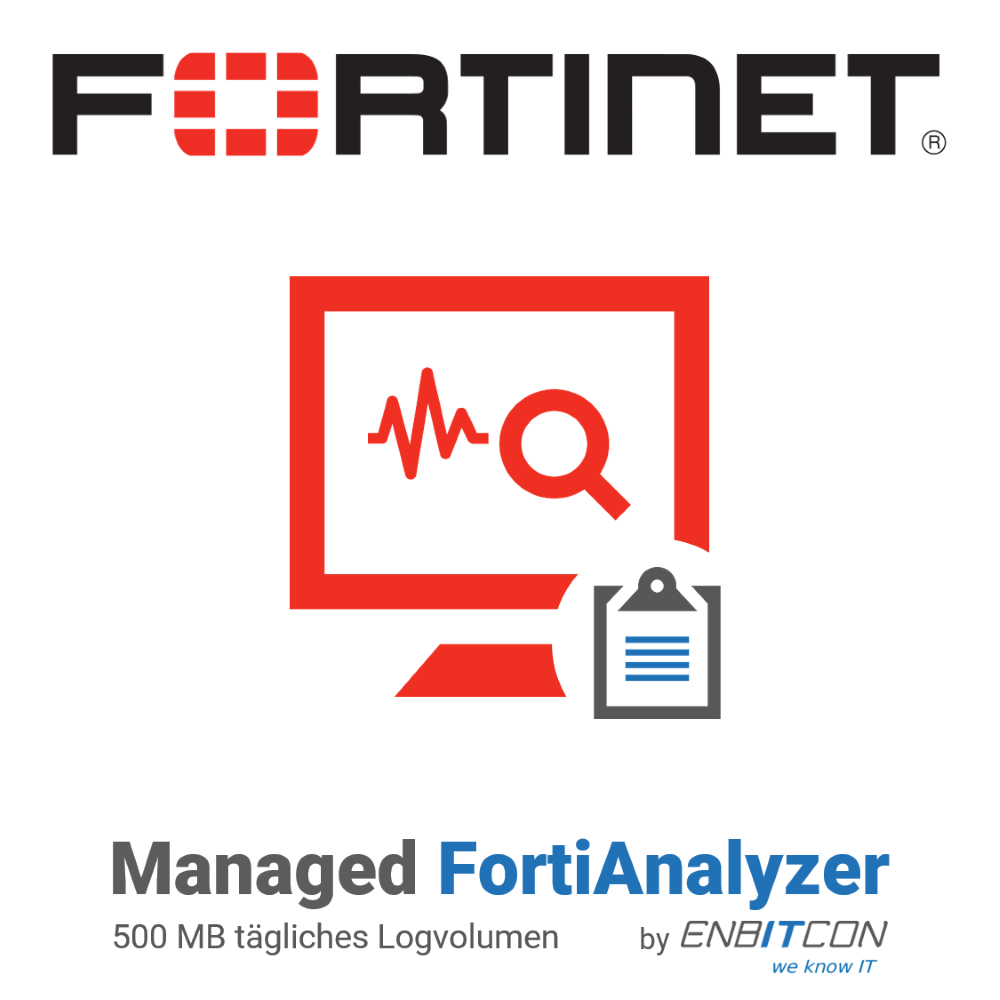 Managed FortiAnalyzer by EnBITCon
With the FortiAnalyzer, security data - so-called logs - can be collected, archived and evaluated. In addition, the FortiAnalyzer helps to track down successful virus attacks. It gives cyber forensics important information about how and when a virus could enter your network. Using real-time alerts in case of danger, you can act quickly and take appropriate measures.
Thanks to the integrated "Indicators of Compromise", you can evaluate even more details from your log files. The IOCs tell you whether anomalies have appeared in your network or whether an attack is currently taking place. This gives you even more transparency in your network.
By the way, you can also have other Fortinet products report to the FortiAnalyzer service. The only limit here is the daily log volume. However, you can expand this at any time. Feel free to contact us!
Your advantages:
Operation and maintenance of the FortiAnalyser via ISO 9001 and ISO 27001 certified company in a German data centre
Simple central log files of one or more FortiGate- devices
Aggregated log files
Including IOC (Indicator of Compromise)
Including SOC (Securiy Operation Center) view
Technical support by Fortinet certified technicians*
*Technical support is not included in the price and will be charged separately. Please refer to our price list for pricing
.
What exactly does the Fortinet Analyzer do?
FortiAnalyzer collects log data from connected Fortinet security appliances and provides complete as well as simple visibility into them. A comprehensive suite of easily customizable reports allows users to quickly analyze network threats, inefficiencies and current usage. This is achieved in particular through an equally intuitive as well as informative visualization of these data summaries. The Analyzer is thus one of several versatile Fortinet management products that offer a variety of deployment types, growth flexibility, advanced customization via APIs and easy licensing. The number of log files is subject to a daily limit, but this can be flexibly adjusted via subscription to suit your needs.
These are the features of the FortiAnalyzer
The FortiAnalyzer provides a compact overview of the workload, processes and irregularities within a Fortinet network structure and can therefore provide valuable orientation in normal day-to-day business as well as in "crisis situations". It can be used to identify and eliminate inefficiencies or possible security gaps, or to track down the causes of an infection. The FortiAnalyzer offers the following features or optional modules to realize this:
FortiView - Provides a concise overview of the most vulnerable points in your network, the largest traffic consumers, and the most common traffic destinations, to name a few.
NOC - Reveals key metrics in terms of network activity, including network security monitoring, WLAN security and system performance.
Viewing device logs - sorted by devices, all activities of these devices can be viewed according to the logging departments Traffic, Events and Security.
Real-time monitoring - Selected devices can be monitored in real time. According to predefined filters, the log files are thus openly displayed and the underlying tasks or events are passed.
Summary reports - Based on the logs, FortiAnalyzer can generate summaries in terms of system reports.
How is Fortinet FortiAnalyzer implemented?
FortiAnalyzer functions can be enabled for either a FortiManager unit or standalone FortiAnalyzer units, but not both at the same time. The functions can be used to view and analyze logs from units with logging enabled that are managed by FortiManager. On the other hand, when the features are enabled manually, logs are stored and FortiAnalyzer features are configured in FortiManager.
When the features are enabled by adding a FortiAnalyzer to the FortiManager, logs are saved and log storage settings are configured on the FortiAnalyzer unit. Managed units with logging enabled send logs to the FortiAnalyzer. The FortiManager "remotely" accesses logs on the FortiAnalyzer unit and displays the information.
Do you still have questions about the Fortinet Analyzer?
Do you still have questions about the Analyzer from Fortinet? Then don't hesitate to contact us. As certified installers and administrators of Fortinet network security, we are practiced in dealing with the corresponding hardware and software and can draw on the experience of our specialization in IT security. We at EnBITCon GmbH would be happy to advise you and, if necessary, to assist you in finding a security solution tailored to your network and your requirements!