Greenbone Enterprise GSM PETA Virtuelle Appliance
bis 9000 IPs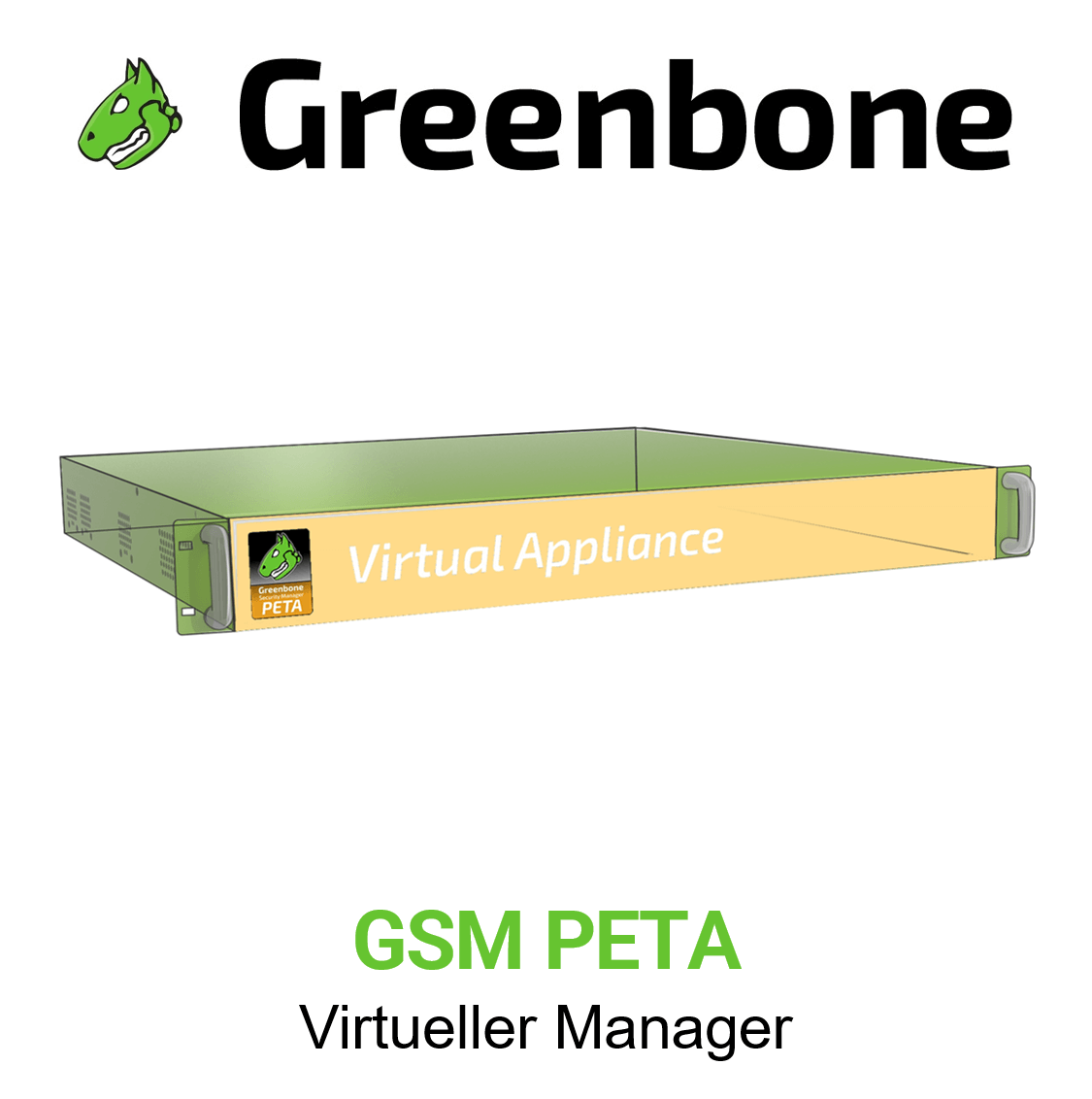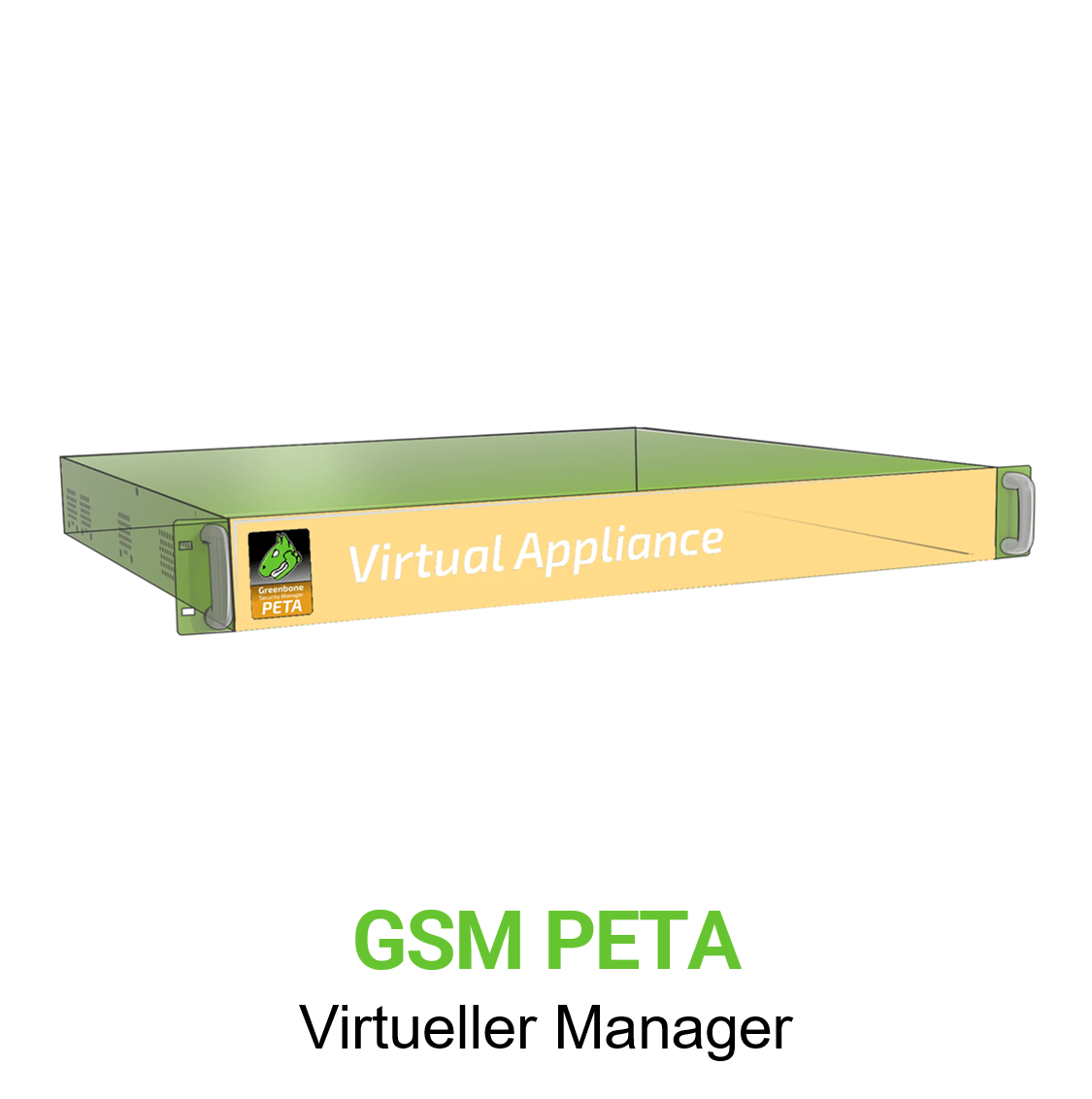 Product information "Greenbone Enterprise GSM PETA Virtuelle Appliance"
Please note that you need an appropriate HyperVisor that is supported by the Greenbone GSM PETA. The following HyperVisors are suitable for the GSM PETA:
Microsoft Hyper-V
VMware vSphere ESXi
Huawei FusionCompute
Please note that the appropriate Greenbone Subscription license is required to get your Greenbone Appliance up and running.
The Greenbone GSM PETA is designed to scan up to 9,000 IPs within 24 hours. Thanks to the intuitive setup wizard and numerous pre-built tools and reporting, the GSM PETA is ready to use in 10 minutes. With GSM PETA, both medium and large enterprises can benefit from an enterprise vulnerability solution.
.
But what is a vulnerability management solution?
Vulnerabilities refer to security gaps in IT that have not been patched. This can be an unupdated Adobe Reader or Flash version or the very common JAVA. All of the tools mentioned above have open, known vulnerabilities that can - and urgently should - be patched. The problem with open vulnerabilities is that you first have to know where these programmes are located and, above all, in which version they are installed. Very few companies have clean documentation here. With a vulnerability management solution, you are able to manage your systems and check them against known vulnerabilities. Patching these systems is then possible without any problems on the basis of this list. Greenbone's own manager engine is used here, which carries out up to 64,000 vulnerability managers and also adheres to the known vulnerability standards CVE, CPE and CVSS.
In summary, a vulnerability management solution analyses your network and shows you open vulnerabilities, but does not fix them.
What makes Greenbone so unique?
Greenbone is one of the few manufacturers that builds on open-source solutions and actively participates in the open-source community. The manufacturer supports the open source project OpenVAS, which is also used in the Greenbone solutions.
How can GSM PETA support me with compliance requirements?
With the Greenbone GSM PETA Vulnerability Management solution, you are able to create reports in seconds, taking into account compliance requirements such as the BSI IT Grundschutz, PCI-DSS and ISO 27001. Thanks to the simple HTTPS-based management and customisable APIs, such as Active Directory and Nagios, you can integrate the GSM PETA solution into your existing IT infrastructure.
What is included in this product?
A virtual machine for VMWare
No limit to the number of IPs managed (the effective number depends on the pattern and systems)
Management of up to 12 sensors
How can EnBITCon GmbH support me?
If you wish, we can assist you with the setup. Should you wish a regular review of your system landscape, we are of course also at your disposal here. Just get in touch with us!
vulnerability management video live demo product guide Reports
Product information
| | |
| --- | --- |
| Hardware or virtual : | virtual |
| Number of scannable IP addresses within 24h: | 9000 |
Downloads "Greenbone Enterprise GSM PETA Virtuelle Appliance"
Questions to the product?
Your price
only €38,000.00*
| | |
| --- | --- |
| Gross price: | €45,220.00 |
| Product number: | GSM_PETA_A |
Available in 1 day, delivery time 1-3 days
Questions to the product?
From the 1st order - purchase on invoice

Thanks to SSL Encryption

+49 228 - 338889-0

Both our consultants and our technicians are certified by the manufacturer.

Our company is certified according to ISO 9001. This guarantees, among other things, a smooth process.

Our company is certified according to ISO 27001. Among other things, this guarantees secure handling of your data.

Read our reviews.
Zuletzt angesehene Produkte