Fortinet FortiGate 900D Firewall (End of Sale/Life)
2 x 10GE SFP+ slots, 16 x GE SFP slots, 16 x GE RJ45 ports, 2 x GE RJ45 management ports, SPU NP6 and CP8 hardware accelerated, 256GB SSD onboard storage, dual AC power supplies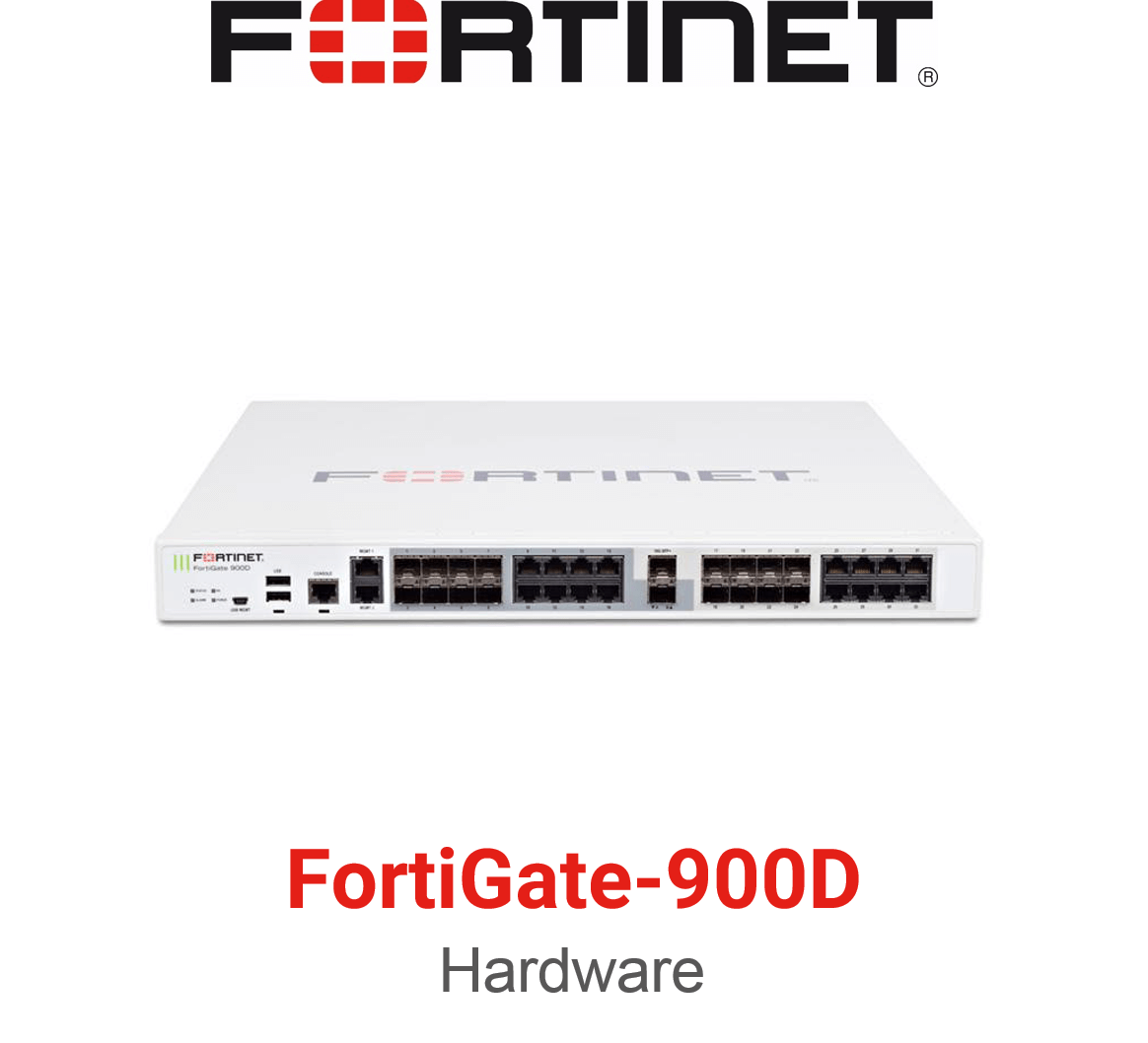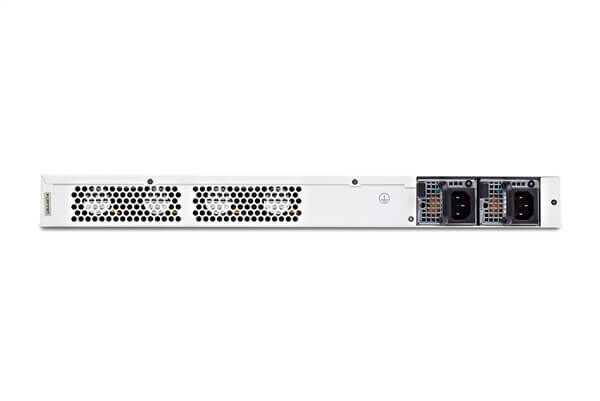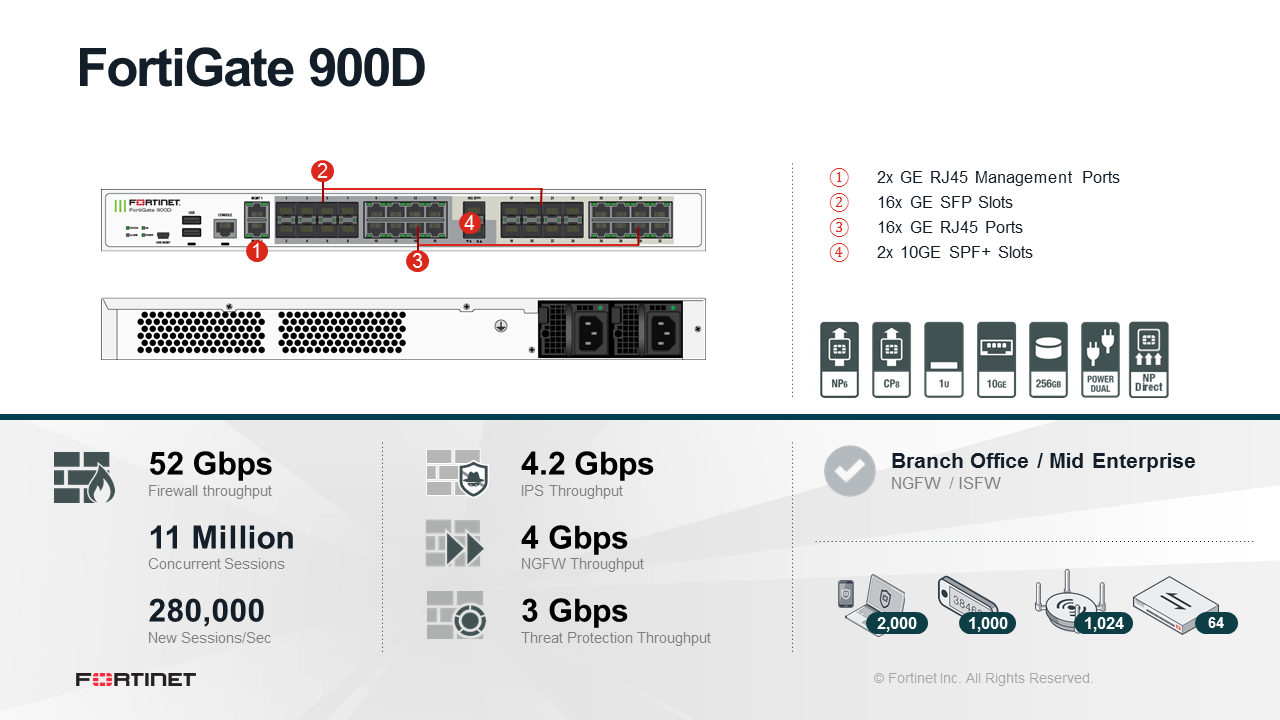 Product information "Fortinet FortiGate 900D Firewall (End of Sale/Life)"
Begrenztes Budget? - Fordern Sie jetzt Ihr attraktives Angebot an!


The FortiGate 900D appliance delivers superior performance through a combination of purpose-built FortiASIC ™ processors, high Gigabit port density with 10GE ports and consolidated security features from the FortiOS ™ operating system. This constellation ensures better next-generation firewall performance compared to alternative products and offers one of the best price/performance ratios in the industry.
A component of every FortiGate firewall is, among others, the free use of IPSec and SSL VPN. Here the free FortiClient VPN can be used as VPN client. Instructions for setting up the VPN can be found in the FortiGate CookBook, among other places.
Thanks to the Fortigate VDOM functionality, you have the option of making your firewall multi-tenant. Thus, you can operate your own firewalls for different departments in a very granular way.
With the Fortinet Support (included as FortiCare in every license bundle), you get the possibility to contact the manufacturer directly in case of problems or questions. Among other things, this support license is also necessary for obtaining and downloading firmware updates.
Fortinet FortiGate basic functionality
 Enterprise Protection
 Unified Threat Protection (UTP)
 
 Advanced Threat Protection (ATP)
 
 
 Basic functionality
 
 
 
Virtual Private Network (VPN)
Antivirus
Antispam
Inline CASB Database + DLP
SD-WAN Services
Intrusion Prevention System (IPS)
Web & Video Filter
AI-based Inline Malware Prevention
 
Application controll
 
Mobile Security
 
FortiConverter Service
 
FortiCare Support*
FortiSandbox Cloud
 
Attack Surface Security
* Please note that without a license you can only use FortiCare Support for 90 days.
** Inactive elements are not included in this bundle.

FortiGate licensing FortiGate SMB Sizing Guide FortiGate Live-Demo
With the Fortinet Security Fabric to Unified Network Management
Many IT managers are faced with the challenge of having to manage and administer increasingly complex systems. This starts with providing effective endpoint protection, moves to providing secured network ports as well as wireless LAN, and ends with unified logging and centralized management. Dank der Fortinet-Security-Fabric können wir Ihnen hier einheitliche Lösungen für Ihre Herausforderung anbieten.
Secure-Access

Thanks to the FortiSwitch, you can deploy a centrally managed and secure network in no time. Die integrierte NAC-Funktionalität auf den Fortinet-Firewalls bietet Ihnen hier ohne zusätzliche Lizenz einen deutlichen Mehrwert im Bereich der Netzwerksicherheit.

Secure-Wireless-LAN

Fast and high-performance WLAN networks are not only needed in offices, but also increasingly in logistics and manufacturing. Thanks to FortiAP Access Points, WLAN networks can be deployed here very quickly and conveniently, which you can manage via the FortiGate firewall, FortiCloud or via a dedicated WLAN controller.

Endpoint-Protection und EDR-Lösungen

With the FortiClient you can not only establish secured VPN connections with your FortiGate firewall. In the paid version, FortiClient can be seen as a full-fledged endpoint protection solution. As a further development, the FortiEDR solution is available. Both solutions can communicate with the FortiGate firewall and transmit telemetry data. With this data, the firewall can review additional information and make decisions on whether or not to allow a device to communicate with the network.

Security Operation Center with the FortiAnalyzer and FortiManager

Increasingly complex networks, distributed across multiple sites, require unified logging and centralized management. Thanks to the FortiAnalyzer, you have the ability to correlate the log files of the various Fortinet solutions and thus gain a unified picture of your network. Mit dem FortiManager haben Sie zusätzlich die Möglichkeit, Ihre Fortinet-Lösungen zentral zu verwalten und zum Beispiel Firmware Updates auszurollen.
Product information
| | |
| --- | --- |
| Bundle: | only Hardware |
| Firewall throughput: | 52 Gbps |
| IPS Throughput: | 8 Gbps |
| IPsec VPN Throughput : | 25 Gbps |
| SSL-VPN Throughput: | 3,6 Gbps |
| Threat Protection Throughput: | 2,4 Gbps |
| Term: | only Hardware |
Please note that there are currently delivery problems with all hardware products and the exact delivery date may not be accurate.

If the product is not marked as "available", you will receive more information about the availability of your desired components on request.


Questions to the product?
Your price
only €19,849.74*
| | |
| --- | --- |
| Gross price: | €23,621.19 |
| Product number: | FG-900D |
Please select your desired variant by clicking on the button below to display the respective product information.
Directly order accessories
Questions to the product?
From the 1st order - purchase on invoice

Thanks to SSL Encryption

+49 228 - 338889-0

Both our consultants and our technicians are certified by the manufacturer.

Our company is certified according to ISO 9001. This guarantees, among other things, a smooth process.

Our company is certified according to ISO 27001. Among other things, this guarantees secure handling of your data.

Read our reviews.