Managed FortiAnalyzer by EnBITCon
monthly billing per log volume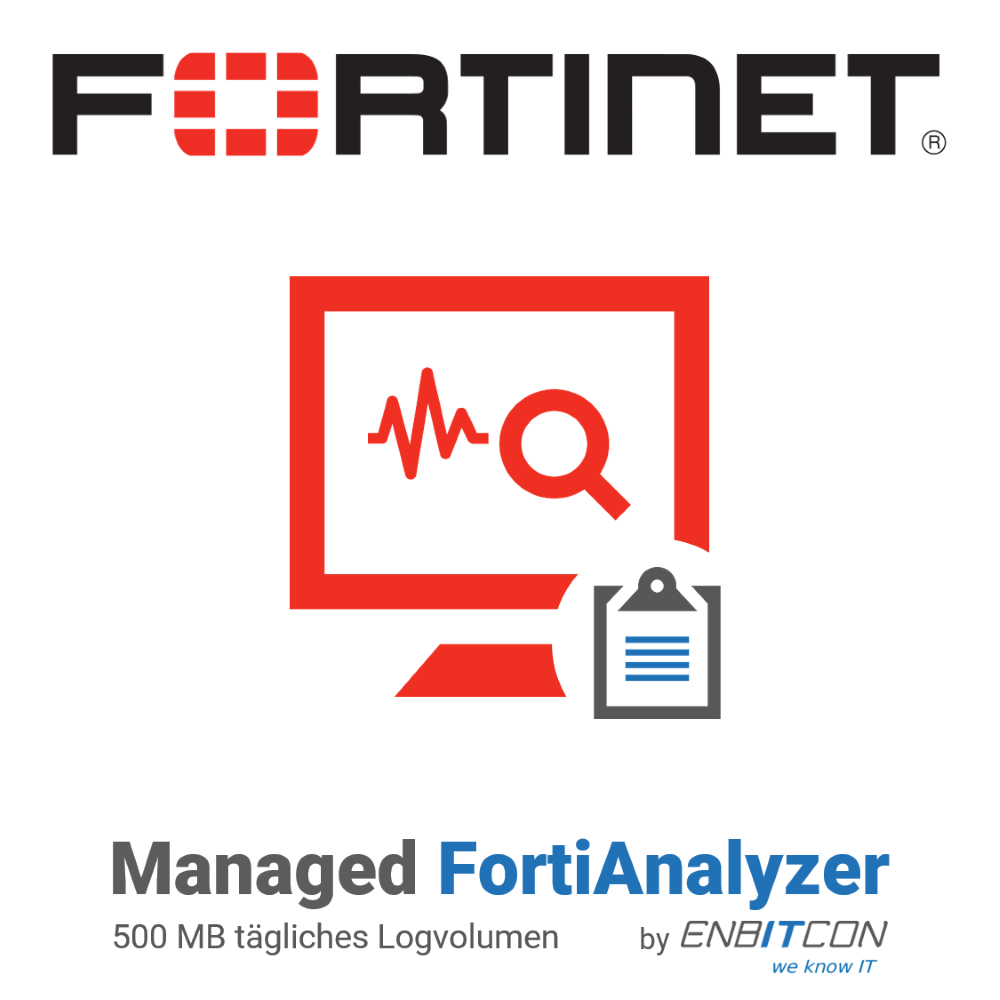 Product information "Managed FortiAnalyzer by EnBITCon"
Begrenztes Budget? - Fordern Sie jetzt Ihr attraktives Angebot an!


This service is charged per month and provides you with a log volume of 10,000 MB. If you need more log volume, you can rent the addon volume additionally. 12 months minimum contract period with monthly billing. Cancellation period 3 months before end of term
With the FortiAnalyzer, security data - so-called logs - can be collected, archived and evaluated. In addition, the FortiAnalyzer helps to track down successful virus attacks. It gives cyber forensics important information about how and when a virus could enter your network. Using real-time alerts in case of danger, you can act quickly and take appropriate measures.
Thanks to the integrated "Indicators of Compromise", you can evaluate even more details from your log files. The IOCs tell you whether anomalies have appeared in your network or whether an attack is currently taking place. This gives you even more transparency in your network.
By the way, you can also have other Fortinet products report to the FortiAnalyzer service. The only limit here is the daily log volume. However, you can expand this at any time. Feel free to contact us!
Your advantages:
Operation and maintenance of the FortiAnalyser via ISO 9001 and ISO 27001 certified company in a German data centre
Simple central log files of one or more FortiGate- devices
Aggregated log files
Including IOC (Indicator of Compromise)
Including SOC (Securiy Operation Center) view
Technical support by Fortinet certified technicians*
*Technical support is not included in the price and will be charged separately. Please refer to our price list for pricing
.
Please note that there are currently delivery problems with all hardware products and the exact delivery date may not be accurate.

If the product is not marked as "available", you will receive more information about the availability of your desired components on request.


Questions to the product?
| | |
| --- | --- |
| Gross price: | €117.81 |
| Product number: | MSP_FortiAnalyzer |
Available in 1 day, delivery time 1-3 days
Please select your desired variant by clicking on the button below to display the respective product information.
Questions to the product?
From the 1st order - purchase on invoice

Thanks to SSL Encryption

+49 228 - 338889-0

Both our consultants and our technicians are certified by the manufacturer.

Our company is certified according to ISO 9001. This guarantees, among other things, a smooth process.

Our company is certified according to ISO 27001. Among other things, this guarantees secure handling of your data.

Read our reviews.