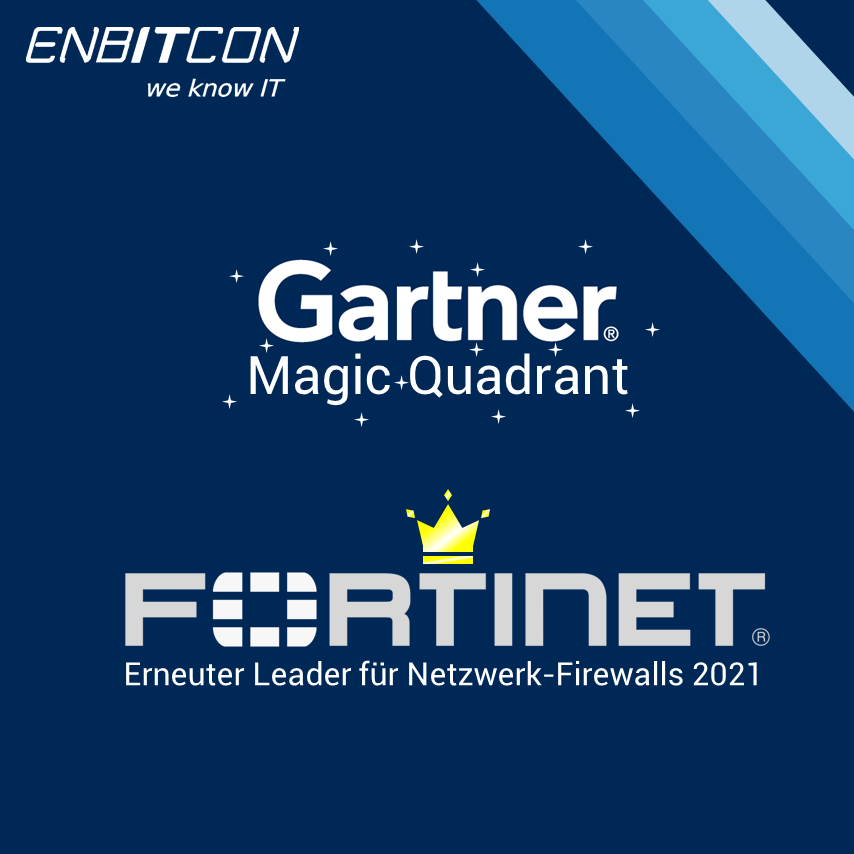 Fortinet erneut als Leader im Gartner® Magic Quadrant™ für Netzwerk-Firewalls für 2021 benannt
November 19, 2021
Simon Schmischke
Fortinet
Fortinet is very proud to announce that it has again been named a Leader in the Gartner® Magic Quadrant™ for Network Firewalls for 2021. Fortinet is a global leader in cybersecurity, serving more than 500,000 customers around the world and helping them accelerate their digital journey with security-focused network solutions. Built on a single operating system, FortiGate Network Firewalls - whether physical, virtual or deployed from the cloud - are designed to protect any edge at any scale while providing a seamless experience for users and administrators.
Security-managed networks - a must for building enterprise-class security
FortiGate Network Firewalls are designed to embed security deep into the network fabric and accelerate performance with purpose-built Security Processor Units (SPUs) to protect any edge at any scale. And with AI/ML-powered FortiGuard services, this protection is not only faster, but also smarter, more contextual and more effective.
FortiGate Network Firewalls leverage more than 20 years of innovation to deliver comprehensive, real-world visibility combined with consistent enterprise-class security and coordinated threat intelligence sharing. These innovations are designed to more effectively prevent business disruptions and protect organisations from the growing threat of ransomware and other cyberattacks.
Take back control of your security to grow your business
Fortinet attributes much of its own success to the great customers and partners who help Fortinet focus on innovations that help them get the job done quickly and securely. This commitment to innovation manifests itself in more than 716 patents, with hundreds pending - the highest number in the industry. Fortinet has also shipped the most firewalls, more than 6.25 million. And they do it with one of the most secure and efficient supply chain management systems in the industry to meet our customers' delivery deadlines.
FortiGate Network Firewalls add real value to businesses. That's not just our opinion, it's the opinion of thousands of Gartner Peer Insights reviews. As a result of these customer reviews, Fortinet was awarded the coveted Gartner Peer Insights Customers' Choice for Network Firewalls for 2020 and 2021. Fortinet believes this reflects the confidence customers worldwide have in Fortinet's enterprise security solutions.
Fortinet network firewalls offer the next steps in cybersecurity
Fortinet also received the highest score in the Enterprise Data Centre use case of the Gartner® Critical Capabilities for Network Firewalls in 2019 and 2020. Many of the world's largest customers in finance, healthcare, manufacturing, government and more have chosen FortiGate Network Firewalls for their hyperscale and hybrid data centre environments. This decision reflects a commitment to supporting today's most demanding network environments.
With more than fifty integrated fabric solutions and the industry's highest number of zero-day detections, FortiGate Network Firewalls provide advanced automated data governance designed for today's hybrid IT architectures. At the same time, they are specifically designed to meet the new demands of today's workforce and protect hybrid environments. That's because FortiGate Network Firewalls include an extensive portfolio of market-leading innovations:
PROTECTION: The increasing speed and sophistication of cybersecurity attacks, including ransomware, can lead to data theft and network disruptions that damage brands and impact revenue. As part of a Security-Driven Networking strategy, FortiGate Network Firewalls provide comprehensive and reliable visibility to protect ANY user, device or edge at any location. And because they are powered by AI/ML-driven FortiGuard services, they can protect the entire hybrid IT architecture with coordinated and automated threat detection and prevention.
CONSOLIDATION: Network and security managers need to consolidate solutions to eliminate point products that compromise visibility and limit control. They also need tools that are designed to meet the needs of their business while providing the appropriate security. With FortiGate Network Firewalls, they can build strong security structures designed for the most robust environments. The common operating system and hyperscale security enable these organisations to reduce cost and complexity, resulting in a predictable total cost of ownership.
WORKING FROM ANYWHERE: Network and security managers also need a comprehensive security framework that supports the flexibility of the workplace. FortiGate Network Firewalls natively integrate the ZTNA access proxy without the need for additional licences. This enables remote users to access applications and resources from anywhere, at any time, with continuous authentication. At the same time, integrated AI/ML systems ensure increasingly effective compliance and control.
AUTOMATION: Network and security managers must overcome the inefficiencies and breaches that result from manual operations. Orchestrating a consistent security policy for ephemeral workloads that span hybrid and multi-cloud architectures is an added burden to their already extensive operational tasks. Misconfigurations and overlooked threats, often resulting from manual operations, inevitably lead to network compromise. FortiGate Network Firewalls are managed through a single fabric management centre that provides centralised visibility and integration with more than 400 ecosystem partners to simplify operations, coordinate workflows and deliver consistent policies across hybrid IT/data centre/cloud architectures.
Designed for the way companies do business today
Fortinet is honoured to have been ranked as a Leader in the Gartner® Magic Quadrant™ for WAN Edge Infrastructure for 2021 for the second consecutive year, ranking highest in the Ability to Execute category. We are also pleased to have been ranked #1 in three key enterprise use cases - including Remote Worker, Security-Critical WAN and Small Branch WAN.
To compete in today's highly dynamic digital marketplace, tools are needed that are based on the principles of Security-Driven Networking and adapt to ever-changing requirements. Fortinet believes our position as a Leader in the Magic Quadrant for WAN Edge Infrastructure and Network Firewalls reflects our commitment to developing solutions designed for the business operations of today's enterprises.